Another year has passed, and along comes another yearly review.
These start coming faster and faster, don't they?
Might just be me…
So how was 2018?
In a word: Quiet.
You might not have noticed it, because I try to publish as consistently as possible, and I have released a bunch of awesome courses this year, but I have been more quiet this year than the years prior.
Specifically, I didn't seem to be working on any major project since Tasteful was released at the end of last year.
Well, that's not true…
I've been working on something pretty big. But we'll get to that later. First – what HAVE we done this year?
After the release of Tasteful
The film's release was great.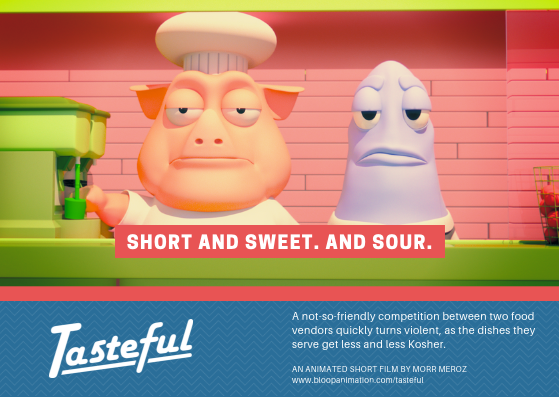 We got in to a lot of festivals, premiered at the Brooklyn Film Festival and even screened at the SVA After School Special, which features alumni who worked on major films, as well as a few selected independent productions, like Tasteful. It was screened right before Ferdinand (also directed by an SVA alumnus), which was an amazing experience.
The film was then released on YouTube, along with a new course about the making-of process.
New course about the making of Tasteful
Along our usual course releases, I created a more personal course, featuring myself alone, breaking down (in much detail as possible) the process I went through making our animated short film Tasteful.
We have plenty of tutorials and articles about making animated shorts (we even have a free ebook about it) but I never created a more complete product that takes you through the whole process in such a visual way, covering a lot of topics I never covered before.
It's a course I wanted to make for years, but I had to wait until Tasteful was done. I'm extremely proud of how it turned out.
I gave it away for free for the first few months, and over 10,000 people signed up for it.
In fact, we had so many people sign up when it launched that the site crashed for 2 days.
New site (sort of)
Not too long after the crash, we experienced our first hack (woohoo!).
This led to a complete makeover of our site's back-end.
We switched to a MUCH more secured premium hosting, added some extra 3rd party security monitoring and our site is currently running 4 times faster with zero hiccups.
We also redesigned most of it, just for fun (:
New courses
This year we released 3 and a half new courses.
Making an Animated Movie
We've designed this course to be tailored specifically for aspiring animation filmmakers interested in making their own animated short film.
After taking this course you will have complete understanding of the entire process of making an animated short film from start to finish, and will be able to take the next steps to making your own movie a reality.
This course comes free with the purchase of ANY course in our library.
Get the course
---
Making a Graphic Novel
We've designed this course to be tailored specifically for aspiring artists and creative people interested in making and publishing their own graphic novel.
Self publishing a book of any kind is a complicated process, and a graphic novel is no different.
This course will lay out all the different steps from idea to print. You will not find a more in-depth course on creating graphic novels and comic books anywhere else.
Get the course
---
Character Animator Animation
We've designed this course not only for aspiring/professional animators, but also for anyone who wants to use animation in their project, even if they never tried before.
Adobe Character Animator levels the playing field by letting you use your webcam and microphone to drive the character performance. No key-framing necessary.
This is the EASIEST way to get started with animation, with groundbreaking technology that lets anyone become an animator.
Get the course
---
Animate CC Animation (Update)
This is not a new course, but an update to our old Flash Animation course.
Adobe changed the name of the program from Flash to Animate CC, so we had to update it. Not only with a new name, but also with new lessons and updates to old one to make sure it's still relevant.
Get the course
---
Notable articles from this year
Industry
Inspiration
Learning
Most popular video this year:
So what have I been doing this year?
You might be asking yourselves:
"Yes, all these courses are great, but what have you REALLY been doing this year?"
At the end of 2017 I mentioned our next big project, which was a graphic novel. So when 2018 arrived, I got to work.
I started working on a full-length graphic novel, and within a few months of intensive writing I finished the script.
It was a futuristic YA story I really believed in, but I wasn't really happy with the finished script.
I worked on re-writing it for a few more weeks and couldn't really crack it. So I explored other ideas…
I then found a really good idea, for a more realistic indie-type story. It was a cool idea, but at that point I had to ask myself:
"What does that have to do with animation?"
Not much…
I felt like the more I explored these new directions the further I was drifting from what I'm suppose to be doing with Bloop Animation Studios.
So I figured I'll get back to the core of my mission: Making animated films.
So… Make another animated short, right?
Well, I already made three, what will making another one do for me? I should probably push myself a bit further if I ever want to take the studio to the next level.
Then it occurred to me – why not make a feature film?
Yes, making an animated feature film is on the verge of impossible for an indie studio, but some have done it. And technology is getting cheaper and faster. And I'm already used to working with remote artists.
So… Why not?
Why have things been relatively quiet this year?
Because I've been developing an animated feature film. 
I've been working with a storyboard artist full-time for months to develop a 10 minute movie pitch to raise money to produce the first animated feature by Bloop Animation Studios.
I'll share more about this soon, but I wanted to keep you in the loop.
I hope that in 2019 we'll raise the money necessary and start production. That is my main goal for this year.
Yes, we'll still develop new courses and improve our learning platform, but I want to push our film department further.
And, of course, if that happens we'll be documenting the process on a scale we haven't done before.
Let's hope this year was the quiet before the storm…
As always, thank you so much for following our journey, I truly appreciate it.
I wish you an amazing new year.