When I approached creating the backgrounds for Lift Up I initially tried doing them myself. That turned out to be a mistake. I was just not good at it and the backgrounds were ugly. It's sometimes hard as an artist and a director to admit you need help.
I reluctantly sent the word out that I'm looking for help with 2 things: the backgrounds and the music (I'll talk about the music in another post). I was then approached by a few people for the background job (and I say "job" symbolically, since this whole project is a passion project without a real budget), one of them was Shawn Hopkins.
It was hard for me to put my trust in someone else's hands (especially a stranger) and believe that they will produce something of value, that reflects the vision of my film, but when I quickly got the first designs from Shawn I knew I can relax. They were spot on.
I would like to personally thank Shawn for his amazing work on the film and for helping me accomplish my artistic vision. Thanks Shawn!
And now to talk about making the backgrounds, and a little about himself, here's the interview with Shawn Hopkins.
What is your art background?
I started in high school (about 1996) doing album covers for friends' bands as well as the band i was in. I didn't have a computer, so any of the cassette and cd covers I made were hand drawn or cut and paste then photocopied. This transitioned into using image editing programs on a computer. Shortly after high school, I continued my education studying graphic design and computer art. As of 2001 I worked as a freelance visual artist doing work for many major players like Tim Hortons, Keri Kelli (Alice Cooper, Vince Neil Band), Dark Horse Comics and many more.
In 2010 I decided to go back to school again. This time to study video game development. I learned a fair bit of coding, but my focus was on art and animation in games.  After finishing college I joined the team at Snakehead Games and I have moved my way up to Lead Artist.
What drew you to the 3D world?
To be completely honest my heart lies in 2D. I mean don't get me wrong 3D animation is great and a lot of the techniques that we can pull off now is nothing short of amazing. The talent and technology have gone leaps and bounds over the past 20 years. But it can never replace my love for 2D. I think that is why i like this film, "LIFT UP" and Disney's Paperman. The integration of today's technology and 3D art/animation, mixed with 2D animation.
What's your favorite animated movie and why?
Why must there be only one? I am always stumped at this question and can almost never answer. Alice in Wonderland, Lion King, Finding Nemo, Peter Pan. These all have taken permanent residence in my heart, but I think for the sake of this interview I will say Fantasia (1940). One of the most important "keys" to animation is timing and to me the timing in Fantasia is spot on.
What was the work you did for LIFT UP?
For "LIFT UP", I was a Background artist. I painted the backgrounds for the film. This work also meant i had to come up with the appropriate color palettes to compliment the mood or time of day in the film.
What was the biggest challenge in designing the backgrounds?
The biggest challenge with my tasks for "LIFT UP" had to be long distance communication and schedules with the director.
Having a full-time job and a family meant limited time for communication with the director. So coordinating time to discuss colors, shape, and overall style that fit the directors vision. It was a challenge we worked through as a team and if I may say… LIFT UP is Visually Compelling.
What are you currently working on?
Currently I am working on a 2D animated web series called "Andy Kerfuffle". Andy Kerfuffle is a cartoon about 3 boys in a band who are stuck on an island with an evil scientist.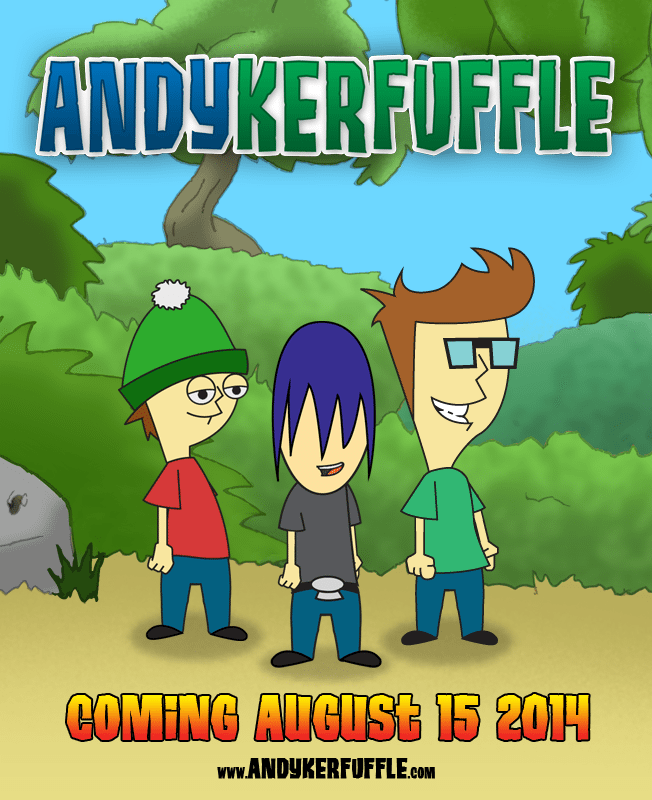 What inspired your project/how did you come up with the idea?
Andy Kerfuffle is VERY loosely based on real life. More specifically, a band I was in high school and those around us who doubted us. Ultimately we failed as a band but it made for good stories.
I originally wrote the idea for a much older crowd but rewrote it and rewrote it to appeal to a much larger demographic. After refining the idea to what I believed to be pretty solid. The pitch was then brought to a major network, and they loved it. But there was one major problem. I was one person and didn't have the skill or life experience to produce the documents and material in the time frame they gave. i sadly had to decline.
Fast-forward to 2014. I found that the Channel Frederator Network was perfect for what I want to achieve.
Will you be utilizing some kind of unique animation style? how will you do it?
For Andy Kerfuffle I will not be doing anything truly unique. However I will let you all in on how my basic animation process is. I mainly use a mix of tradigital animation with flash (or cut out) style animation. Assuming we have our storyboards done and voice recorded i go into my animation software and i start with lip sync. I don't move on until this is complete. Then using video reference i will do the full body animation. I will use Flash Style animation where i can, then do tradigital animation for intricate or less common movements.
What software will you be using?
Here is a list of the software and tools I use.
– Script = Celtx (mobile/web)
– Storyboards = Pencil and paper (sometimes Adobe Photoshop)
– Character design (initial build) = Adobe Illustrator
– Animation = Toon Boom Animate Pro 2 (Main) and Adobe Flash (secondary)
– Recording Audio = Zoom PS-04 (it's old but works) and my IK multimedia iMic ( with iRig recorder for iPhone)
– Editing Audio = Adobe Audition
– Video Editing/Post-Production = Hit Film 2 Ultimate
Do you have a big team for the project? how many people will be working on it?
Andy Kerfuffle's team is small. My main team consists of me (Writing, Animations), my wife Enza (She will be on social media and marketing), Eric Johnston [from YTV's Spat-A-Lot] (Voices), Shawn O'Connor (voices). This team also contributes and helps to revise my scripts. I will be adding more to my team later for other projects associated with Andy Kerfuffle
When can we expect the show to come out?
The first episode of Andy Kerfuffle should be out August 15 2014 on my YouTube Channel as part of the Channel Frederator Network.
What apps/tools you can't live without?
I try out a lot of apps, but the ones I can't live without are:
– Instagram
– LinkedIn Pulse
– Pinterest
– My Disney Experience (whenever my family goes to Disney World)
– Google+
What is the best advice you can give aspiring animators and computer artists who are just starting out?
practice, Practice, PRACTICE. Seriously, if you were working full-time you would be animating (or similar) for 6-8 hours a day (maybe more). So why not work toward that. Spend as much time as you can doing whatever it is you are trying to work toward.
Never stop learning. The 9 old men may have taught you the 12 principles and Richard Williams may have given you tips. But techniques and technology don't stop moving and neither should you. Keep Moving Forward.
Where can people find out more about you and your project?
Shawn Hopkins
-Instagram
Andy Kerfuffle
Snakehead Games
Anything else you'd like to add?
Yes. First I want to thank Bloop Animation for the opportunity. Also please Subscribe to Bloop Animation and Andy Kerfuffle on YouTube and don't forget to share with your friends.
---