These days, when it's easier then ever to create a website, every artist (or in our case – animator) needs their own professional portfolio website to show off their work. That's the way you get noticed, and eventually hired.
The problem is that most people are intimidated by the process, and often resort to having their work shown on free services, without owning their own domain (johnAnimator.wordpress.com) which isn't very professional looking.
In this article I'm going to take you step by step and show you how to create a portfolio website with your own domain name (johnAnimator.com).
I'll cover:
Buying your own domain name.
Using Blue Host (the trusted hosting service we use at Bloop).
Using (free) WordPress templates to make your site look awesome.
Disclaimer: If you choose to use Blue Host through my links I will receive a small commission without additional cost to you, and you'll help support the site. I never recommend something I don't use and think is valuable. You can choose a different hosting provider and still follow these steps.
Step 1: Choosing a Hosting Service
When using your own domain instead of a free site, you're going to need some kind of hosting service.
Hosting just means the place where your site is stored in. It's usually cheap and you only need to pay once a year. There are many hosting companies out there, most of them are decent. My favorite one is Blue Host (this is the one I use for this site) , since it's one of the most used ones out there and they have great costumer service. They're also cheap.
To get started with Blue Host simply click here (the site will open in a new tab).
Step 2: Getting a Domain
I've already explained the importance of having your own domain name, so now we're gonna pick one.
After pressing the Sign Up Now button you'll have to provide a domain name.

Enter your desired domain name in the 'I Need a Domain Name' box and press next. If that domain is available you should be directed to the payment screen. If the domain isn't available you will be offered some alternatives such as '.net' or '.org' versions of your desired domain name, but I would try to reiterate until you find a '.com' one. If you're using your name (since this is a portfolio site) it will most likely be available.
Some suggestions in case it's unavailable:
johndoeanimation.com
johndoeportfolio.com
johndoereel.com
johndoeart.com
You get the gist…
Step 3: Paying
You usually get a better deal for signing up for a longer period. Blue Host, for example, will charge you around 7$ a month if you sign up for a year, but if you sign up for 3 years in advance you'll pay only around 5$. I signed for only a year because I didn't want to commit to a service provider before I knew what they were like, but you can choose whatever time period works for you. Other providers might have different offers, but they are all pretty similar.
Step 4: Activating WordPress
After payment is complete, you will be logged-in to your account. There, under the 'Home' tab you should see a button that says "Install WordPress" in the 'Website' box.
After that, you'll be walked through a few screens which are self-explanatory, and at the end – WordPress will be installed on your site.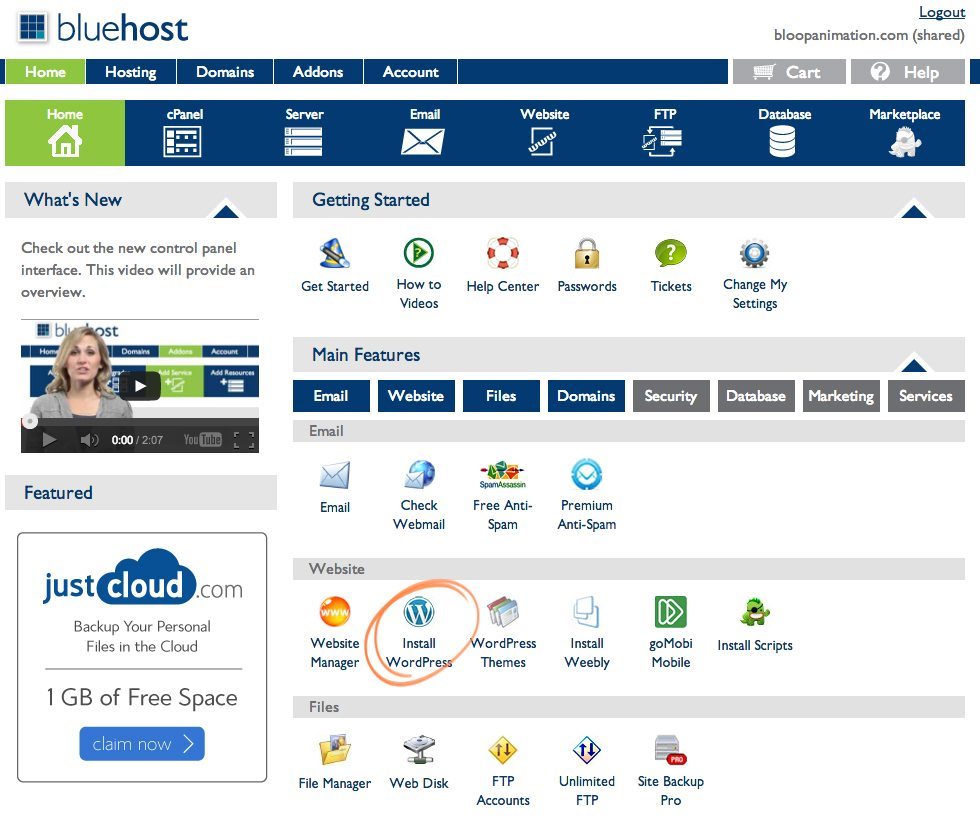 It's important to understand that WordPress is just the platform on which themes then placed. Those themes determine the way your website will look and function.
Step 5: Installing a Theme
WordPress comes with 3 themes already included. To activate one of them go to Appearance -> Themes.

Then pick the theme you want to use and click on 'Activate'.
These themes are free, and are not bad, but if you want to have an amazing looking portfolio, I suggest checking out our Best WordPress Portfolio Themes list.
Also check out our step by step video tutorial on how to install a WordPress theme.
Step 6: Adding content (Placing your demo reel on the home page)
There are a few ways to have your demo reel displayed on the Home page, but the easiest one you can do just to get started is to got to Posts -> Add New. Give the post a title (such as "My Demo Reel") and in the content box just paste a YouTube/Vimeo link. When you're done, press 'Publish' (the blue button on the right).
Now that you have a great portfolio website, read our Best WordPress Porfolio Themes list, and create a great demo reel by following our Demo Reel Guidelines.
---