"
Sumptuous visuals and intriguing ideas will leave readers hungry for more time in the Snowlands.
" — 
Kirkus Reviews
"
A vivid, lesson-packed tale of friendship and perseverance, Snowlands is a visual feast, an emotional rollercoaster, and a powerful parable of finding peace with the past.
" 
- Self Publishing Review
"
A phenomenal graphic novel that teaches an important lesson about accepting others and loving each other for our differences.
" 
- Reedsy Discover
"Meroz and Fogel give a fully realized graphic novel treatment that creates a satisfying experience"
- BookLife
An orphaned white wolf cub exiled from her pack.
A lone snow leopard searching for her missing cub.
A bumbling young Pallas's cat who can't hold a tune.
In the midst of a brutal winter in the unforgiving Snowlands the mountain sheep begin to go missing. Without their primary food source, the wolf pack faces starvation and blame falls on Feba, an orphaned wolf cub whose white fur the elders see as a bad omen.
When pack leaders vote to banish Feba, and perhaps worse, she runs off into the icy wilderness just as the other wolf cubs go missing. Lost in the treacherous mountains, Feba stumbles upon Usha, a snow leopard searching for her missing cub. While Usha wants nothing more than to continue her journey alone, she grudgingly allows Feba and a skittish young wild cat, Batu, to follow her. 
With a snowy trail full of deadly obstacles ahead, the unlikely trio sets out to find the Seeress, a magical being Usha hopes can find her missing son. Each step takes Usha, Feba, and Batu deeper into danger where they encounter other creatures–some helpful, some deceitful–and uncover a widespread peril in the mountains, the fate of the missing cubs, and what having a family truly means.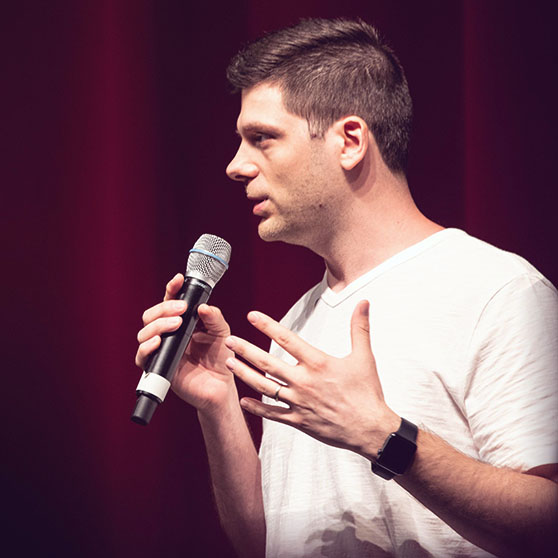 Morr Meroz is an animation filmmaker, author, the founder of Bloop Animation and The Snowlands Company.
After graduating from the School of Visual Arts, Morr founded Bloop Animation Studios in 2013 and started producing animated short films. In addition to making films, Morr launched Bloop Animation's educational initiative, which has become a leading animation learning platform with over 20K students that features dozens of courses, tutorials, and guidebooks about animation filmmaking.
In 2020, Morr founded The Snowlands Company to produce books and graphic novels, including the new Snowlands graphic novel series for middle grade readers.
For a limited time, we offer $25 credit to any Bloop Animation course for anyone who purchases the Snowlands graphic novel.
To get the credit, simply email us at [email protected], and let us know you bought the book. We'll issue a $25 credit ASAP!