START AT THE BEGINNING
Learn the basic principles of character animation
 No animation experience needed
 25 comprehensive HD video lessons
 Made specifically for aspiring animators
 Get is for FREE on launch
Get this course for FREE on launch day by buying any of our other animation courses.
When the course comes out on October 18 it will be available for FREE with any of our other animation courses for the period of 1 week. That means that whatever course you buy from our animation courses library, you will also get Animation Foundations for free.
If you already bought one of our courses, the Animation Foundations course will automatically become available for you on launch date. This deal will end a week after launch, and then the course will be sold separately for a full price.
What Will You Learn in the Course?
In the course you'll learn everything you need to know about the basics of animation.
  Basics
We'll start off by covering our bases, going through all the different types of animation, as well as learn the vocabulary to make sure we're all on the same page.
 The 12 Principles of Animation
After understanding the basics, we'll dig deep into the famous 12 Principles of Animation, established by old time Disney animators.
  Animating a scene
After we understand the theory and all the basic principles of animation, we'll dive into animating a whole scene from start to finish. We'll learn all the skills necessary including how to shoot reference video, how to work in passes, how to work with cameras in your shots, and even learn some lip-syncing techniques and study walk cycles.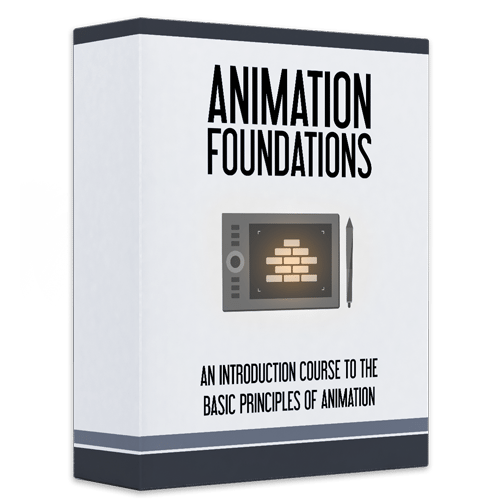 Made for beginners. No previous experience needed.
As an animator, I've designed this course to be a starting point for anyone interested in pursuing a career in animation.
It is the most basic course we've ever created at Bloop Animation so far, and rather than teach you how to use a particular software like Flash or Maya, in this course you'll learn the fundamental principles of animation.
This course has been the missing piece from our course library, and hopefully it'll help you get over any concerns you had about learning animation on your own. After taking this course, you can implement what you've learned in any animation style you choose. 2D, 3D, stop motion, what you learn in this course is applicable to all animation making.
– Morr Meroz, Founder of Bloop Animation
FAQ
Do I need any software for this course?

No, this course teaches the principles of animation, regardless of the program you use.

What if I don't like the course?

No worries, the course comes with a 30 day money back guarantee. If you don't like the course, simply email us and you'll get a full refund.

Will I always have access to the class or is it just for a limited time?

You will always have access to all the courses and products you purchase on Bloop.
Will I get the whole course right away, or will it be available over a period of time?

You will have access to the entire course and materials immediately after purchasing.

I've never animated before. Will I be lost?

This course was created assuming you've never animated before. We go over all the basics to make sure you are able to follow along.

How do I get this course for free?

You can get this course for free by buying any of our other animation courses before October 25.